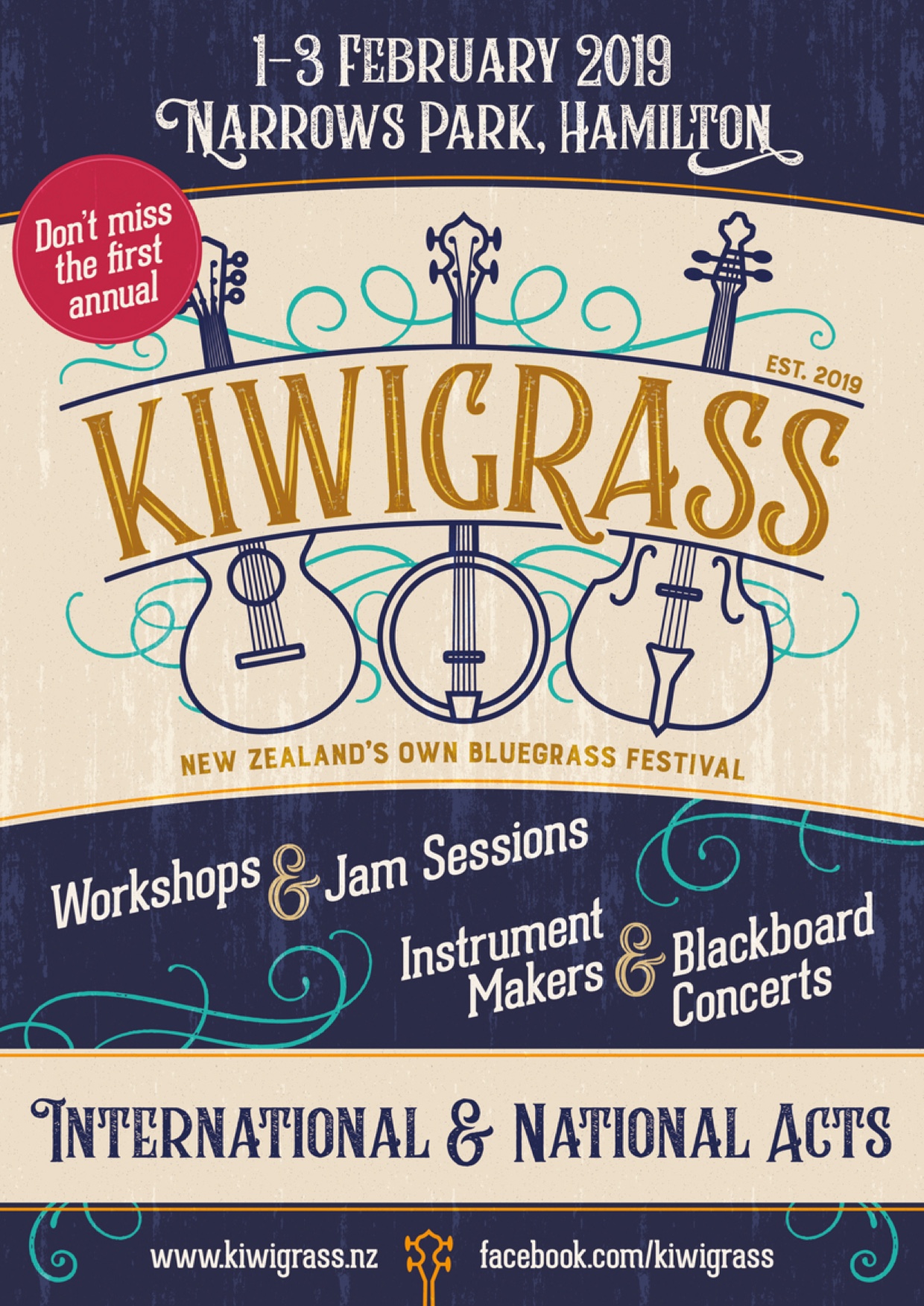 Pencil it in now! A brand-new Bluegrass Festival is happening here in Hamilton February 2019!!
Hamilton to host first Bluegrass Festival in more than 50 years
From Stuff, July 30 2018, Kelly Tantau
For the first time in more than 50 years, bluegrass is coming home to Hamilton, with a festival dedicated to the music lined up for February.
Expect to see picking in the parking lot, band members taking mandolin workshops, and strumming and foot-tapping on the main stage.
It's been decades of dreaming for the organisers, but Kiwigrass​, New Zealand's first dedicated bluegrass music festival, is becoming a reality.
Hamilton's connection to bluegrass music can be easily traced back to the popular and still performing, Hamilton County Bluegrass Band.
READ MORE:
* Bluegrass pioneer Paul Trenwith acknowledged with Queens Service Medal
* Bluegrass band inducted into Hands of Fame
* Popular bluegrass band is a family affair
Formed in Hamilton by Alan Rhodes and Paul Trenwith in the 1960s - a time where bluegrass music wasn't often played in New Zealand - the band was known for thier stint on television show The Country Touch. 
They also graced the stage of many international festivals, and in 1967, Trenwith was involved in the organisation of New Zealand's first National Banjo Pickers Convention, held in Te Rapa.
"This is quite early in the life of festivals worldwide," he said. "The very first bluegrass festivals in the US didn't start until 1963-64, so we were pretty productive."
In 1969, the convention moved to Ngaruawahia, before settling in at Claudelands in 1970.
"Anyone within 50 years of it, would know about the Banjo Pickers Convention because they became quite legendary," Trenwith said.
But it's been five decades since New Zealand has seen a similar event.
"Most of us involved with bluegrass music in New Zealand know that if you want festivals, you go overseas. We've never really had one."
The February festival will be held at Narrows Park Christian Camp and executive director Al Belcher will help organise the event.
Jenine​ Abarbanel​, bassist for bluegrass band The Pipi Pickers, also has her fingers in the festival pie.
And with credible, authentic bluegrass music set to convene in one atmospheric, lively location, Trenwith said there was sure to be something for everyone.
"[Bluegrass] is designed to appeal to audiences. I hate working on assumptions that people like certain things, but although some of the songs are structurally simple, the technicality is in playing, and everyone plays at a high level of skill."
The Kiwigrass​ Festival will be held in Narrows Park, Hamilton, on February 1-3, 2019. For more information, visit www.kiwigrass.nz
Or check it out on Stuff's website:
https://www.stuff.co.nz/entertainment/music/105766436/hamilton-to-host-first-bluegrass-festival-in-more-than-50-years
**************************************************************************************************************
We are delighted our new album These Old Hands was one of the finalists in the 2017 Recorded Music NZ Best Country Music Album Award, which was presented at this year's Golden Guitar Awards in Gore on 1 June.
Other finalists were Wanaka native Jody Direen for Shake Up, and Phil Doublet for his second album Endless Highway.
The winner was Jody Direen, and we congratulate her for her fine album.
Two of HCBB were there on the night, and with assistance from Julia Rhodes on vocals, Marion Burns on fiddle, and the backing band, played a very well-received song in the concert. We got the night's only encore!
Quoted from the press release:
The Hamilton County Bluegrass Band have been a consistent presence in the New Zealand country music scene since the 1960's – and for good reason. Their latest album These Old Hands is a return to form and their first release of new material since 2008.
Recorded Music CEO Damian Vaughn is impressed with the music from all the finalists across both categories, highlighting the strength of New Zealand's country music scene.
"There's a huge amount of talent on display across these recordings. It's an exciting time to be a country music fan and bodes well for the future of the genre."
Paul Scott Trenwith QSM

Many of you will now know that I am privileged to have been awarded a 'Queen's Service Medal' in the 2016 Queen's Birthday Honours list.
This is very humbling, but I'm proud to accept the QSM on behalf of my family, friends, the Hamilton County Bluegrass Band, and bluegrassers everywhere.
I can still hardly believe it, but I've received so many letters and Facebook posts from folk who are delighted with the award, I've got to start believing it!
Thanks for all your support.
Paul Trenwith QSM
Banjo Player to the Queen
Watch the official video of the ceremony right here!
And here is a Stuff.co.nz interview with Paul in his studio:
A video Jeremy shot of the big day: